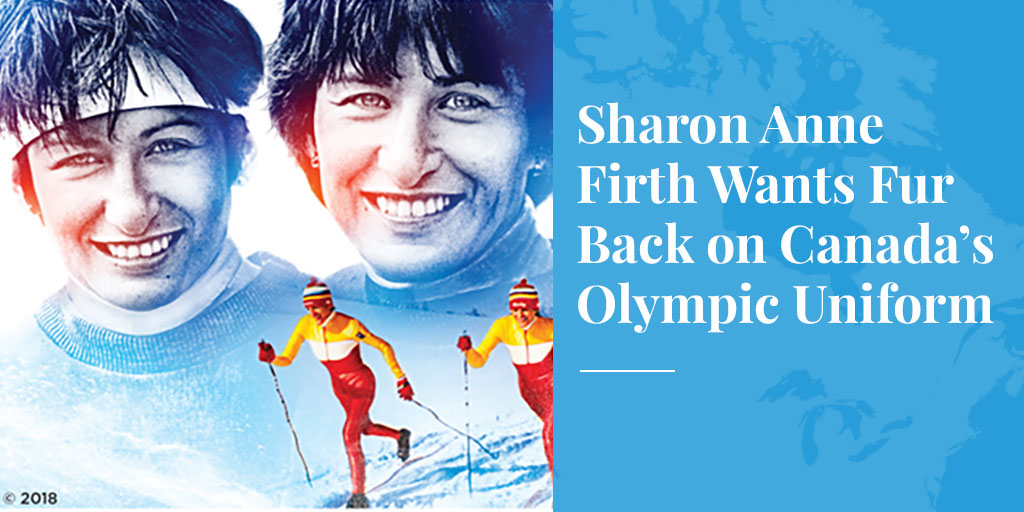 Sharon Firth and her late twin sister, Shirley, are legends in Canada for their feats as cross-country skiers. Their lives were rooted in living off the land, and today Sharon champions the cause of bringing natural fur back to Canada's Olympic uniform, not seen since their first games in 1972. Image: Canada Post.


Gliding stride-by-stride across the frozen ice and snow of the Northwest Territories. The sting of frigid -30°C air filling your lungs with each gasp as you ski on, mile after mile. Your legs and arms burning like fire as you push yourself. Just you, alone, fighting against the pain of fatigue, battling a darkened winter sky and the elements of nature.
It's not something everyone can do or even imagine. But it's exactly here that Sharon Anne Firth found her calling. It's where she traces her life, from a child on the trapline with her family, to Olympic glory around the world, and now, all the way back again. All the way back home.
Sharon Anne and her twin sister, the late Shirley Firth, also an Olympic cross-country skiing legend, were born two minutes apart in Aklavik in the Northwest Territories, on the last day of 1953. They were two of 13 brothers and sisters.
Sharon Anne is Gwich'in, a group of Dené indigenous people that have lived in the Arctic from Alaska to the Northwest Territories since time immemorial.
Considered the hub of the McKenzie Delta, Aklavik had it all at the time: about 800 residents, along with a hospital, post office, radio station, and of course a Hudson's Bay Company store. But in 1959, with fears growing that the town was sinking into the river, many residents were shipped off to nearby Inuvik, including the Firths.
The demise of Aklavik, as it turned out, was greatly exaggerated. While government was busy pushing people out of the town, a committee led by A.J. "Moose" Kerr fought back against the relocation. And in the end, the town was saved. In more ways than one.
"Today the motto for the town is 'never say die,' which makes a lot of sense," Sharon Anne says laughing.
Love for Nature, Skiing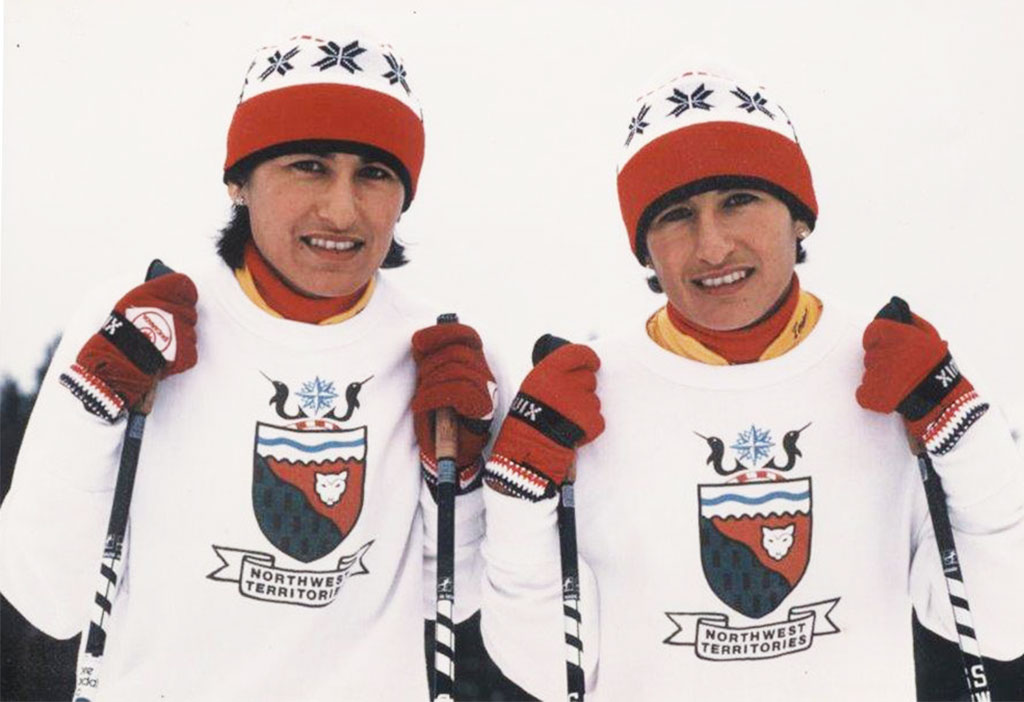 The Firth family lived a traditional lifestyle including fish from the river and lakes, the wood and stone materials around them, wild game from the forests and tundra, and furs from the trapline.
But the people of the north don't just want to survive, they seek to thrive. And so it was that in 1967 teenagers Sharon Anne and Shirley had their date with destiny. While in a residential school that brought in children from upwards of 63 communities, they were introduced to cross-country skiing.
The person who introduced them to the sport was none other than Norwegian skiing legend Bjorger Pettersen, who was running clinics in the north with a view to identifying possible talent and growing the sport nationally.
Sharon Anne and Shirley were naturals.
"As soon as we put on the skis we immediately fell in love," Sharon Anne says. "The McKenzie Delta was really full of raw talent for things like snowshoeing and skiing. We are an endurance people, we love the long distances and we love being outside in all sorts of conditions. It's who we are. It's in our genes and our lifestyles."
Pettersen certainly recognized the raw talent in his midst and the Firths, along with some other local athletes, were asked to enter into serious training. Sharon Anne recalls that they had to get permission from their parents first before committing. That permission was granted and the training began immediately with some, well, unusual challenges.
"Coaches would put the training program on the wall each day and we would be running across the tundra to train," she recalls. "We would run for hours, and of course, before we began, they reminded us that there was no berry-picking while we were out training!"
Off to the Games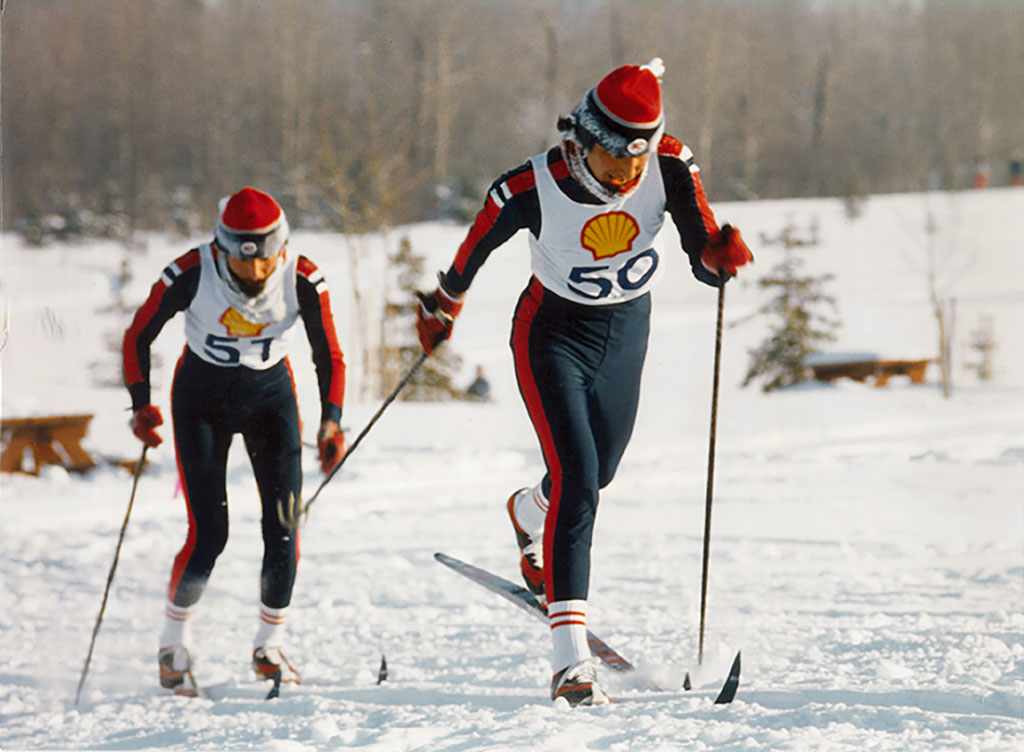 The training, combined with the talent, paid off. And quickly.
After first laying eyes on skis in 1967, just five years later, Shirley and Sharon Anne, then just 18 years old, were faced with a prospect almost too big to fathom: competing at the Winter Olympics in Sapporo, Japan.
But even then, things would not come easy for the twins.
Shirley fell ill and landed in hospital. Her illness was such that she was told she should not only forget about making it to the Olympics, but about competitive skiing altogether. But when you come from a town whose mantra is "never say die", you don't throw down the skis and quit.
"I visited her every day in hospital after I was done training, and the more I went to see her, the better she got. She was very strong-willed. She decided she was going to get out of the hospital, get back on her skis and fight to make the Olympics – and that's exactly what she did. And so we both went to Japan," Sharon Anne recalls proudly.
The Firths were the first Indigenous women to wear the Maple Leaf and represent Canada at the Winter Olympics. There was a huge sense of pride and accomplishment, but also pressure.
"Shirley and I pushed ourselves, we fought hard, and trained like you would not believe," Sharon Anne says. "We were representing ourselves and our country, but also Indigenous peoples. We had gone from the trapline all the way to the Olympics. This wasn't just about us and sports and competition. We were athletes and role models, and we knew it.
Having real fur on our Canadian Olympic uniform, it was a sense of pride and also made us feel connected to our home even though we were halfway around the world.
"It was a powerful feeling in the starting gate," Sharon Anne says, recalling there was one thing that gave her strength as she prepared to step into the games: fur.
"Having real fur on our Canadian Olympic uniform, it was a sense of pride and also made us feel connected to our home even though we were halfway around the world."
In all, Sharon Anne would represent her country and her people at several national and world championship skiing events, and at four different Winter Olympics: Sapporo 1972, Innsbruck 1976, Lake Placid 1980 and Sarajevo 1984.
She retired in 1985 and faced a question many elite athletes do after years of structure and training and planning, and strictly regimented living: now what?
For Sharon Anne, the answer was simple. She would go home.
Back to the Northwest Territories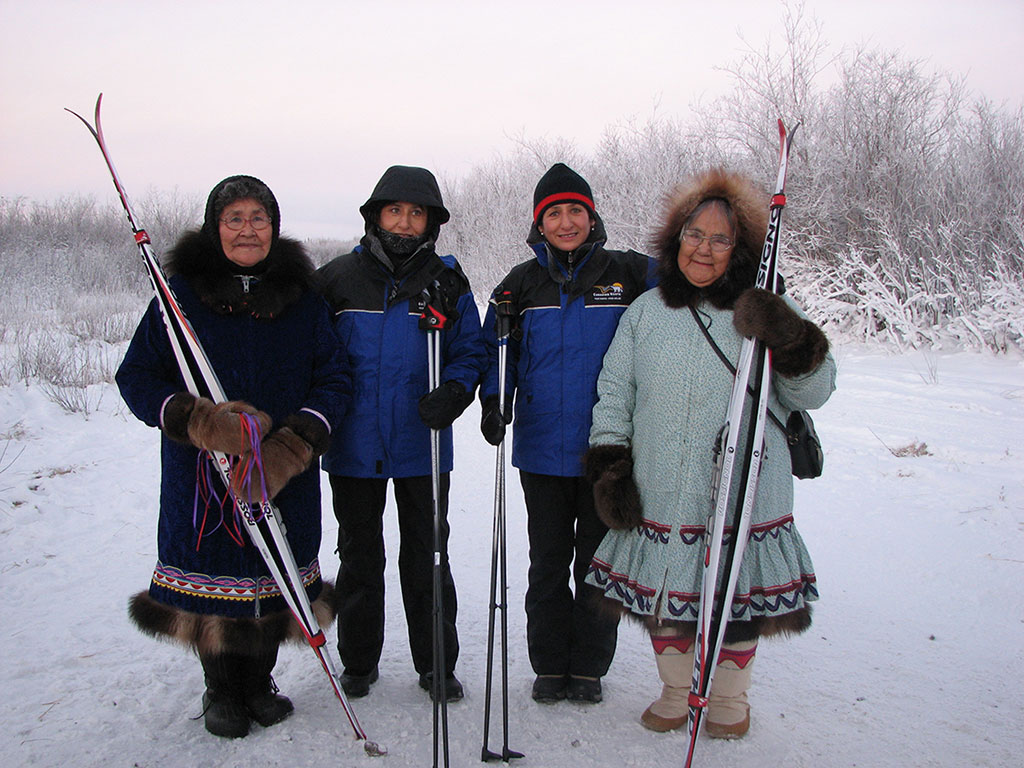 "I knew I had to go back to the Northwest Territories," she says. "I was raised on the trapline and on the land; it was what I knew, what I loved. Hunting, fishing and trapping and living a life in nature, with nature."
She moved back to her home territory and settled in the capital, Yellowknife. Her first job was at Expo 86 in Vancouver, working with young people relaying to them the amazing life she had led. In the years that followed, she worked for the government, and the honours and accolades worthy of a trailblazing athlete of her stature have flowed appropriately.
She is a member of the Order of Canada, and more recently, the Order of the Northwest Territories. She is a member of the Canadian Museum Ski Hall of Fame, Canada's Sports Hall of Fame, Banff Sports Hall of Fame, and NWT Sports Hall of Fame. She has received the Queen's Golden and Silver Jubilee Awards, a National Aboriginal Achievement Award, and an Honorary Doctor of Laws Degree from the University of Alberta, and has been named an Adjunct Professor University of Alberta, School of Public Health.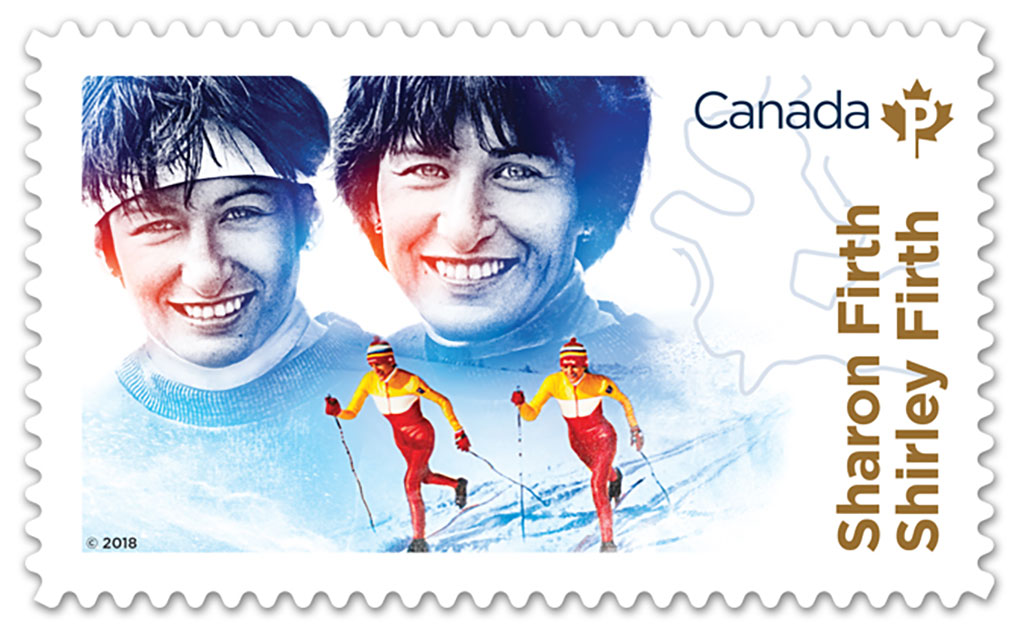 Recently Sharon Anne and Shirley were immortalized when they were added to the Women in Winter Sports stamp series from Canada Post that includes themselves along with other sporting legends Nancy Greene, Danielle Goyette, Clara Hughes and Sonja Gaudet.
Champion for Natural Fur
And now you can add a new title to Sharon Anne's lengthy résumé: a champion for natural, sustainable fur.
As a person who has lived from the land for a great part of her life, and who understands the positive impact of natural fur in rural and Indigenous communities, she has a new mission: to give Olympic athletes a choice to be able to wear fur at the Winter Games just like she did.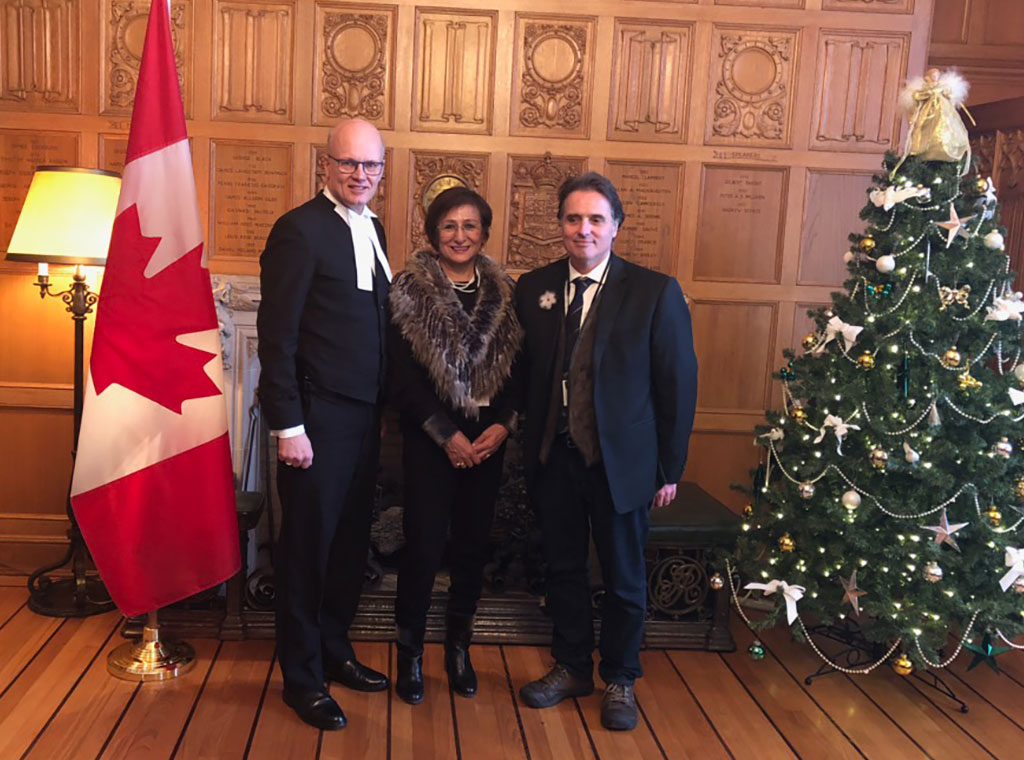 "Natural fur is my passion," she says. "I was raised on the land, we always had the very best of things from the land including our furs. People in the south go to the mall or grocery store to get what they need, we go to the land or the trapline."
She says fur is part of the Canadian cultural fabric, but also part of the ecological landscape.
"As a people we understand management and balance in nature, we never take more than is needed, and we use whatever nature gives us. It's pure and natural," she says. "Hunting, fishing and trapping unites us all across this country, it always has."
Fur is Canada … I'd like to see athletes be able to wear natural fur at the Olympic Games, to feel the connection to their culture and country the way I did.
And for a young teenager, standing in the starting gate at her first Olympics in a country she had only ever read about, fur was something else. It was part of the theme that has permeated Sharon Anne's life.
Fur was, in a way, home.
"Fur is Canada," she says. "So yes, I would like to see athletes have a chance to experience what I had as an Olympian. I'd like to see Canadian athletes be able to wear natural fur at the Olympic Games, to feel the connection to their culture and country the way I did."
"Never Give Up"
Shirley Firth, meanwhile, got married in 1984 and lived in France for many years. But she too stayed connected with her home as she worked with universities and Canadian Embassies in Europe promoting the Northwest Territories and its people.
Sadly, Shirley's life, though so full and amazing, was cut far too short. She passed away in April 2013.
But Sharon Anne's connection to her twin sister has never faded. "She is always with me," she says. "She is always reminding me to never quit, never give up."
***
To learn more about donating to Truth About Fur, click here.