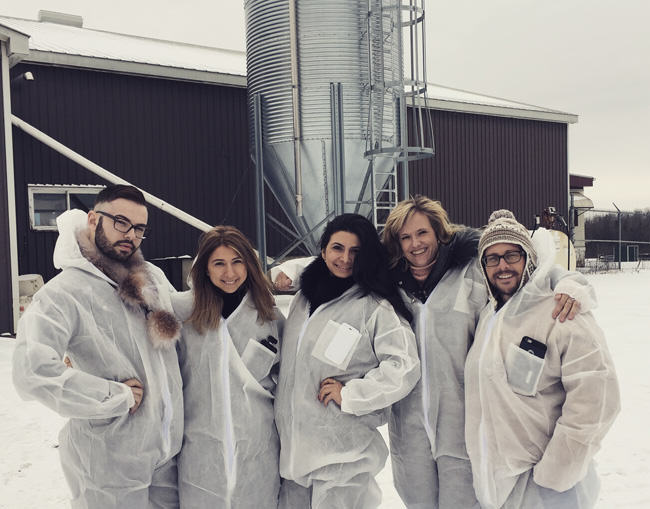 Fur Futures is an initiative of the International Fur Federation to provide financial and professional support for the fur trade's next generation. The inaugural program was held by IFF-Americas in Toronto April 6-7 to coincide with a sale at North American Fur Auctions. Seven young professionals and one student, Jacob Shanbrom, attended educational activities covering multiple aspects of the trade, including a visit to a mink farm, and seminars on mink-grading and wild fur.
---
One of my earliest memories is falling asleep in the back of my mother's SUV covered by her fur-trimmed parka. Since then I have always had an affinity for fur because, to me, fur represents not only luxury and elegance as perpetuated by both of my late grandmothers, but above all, comfort and safety, as a direct reference to my mom.
I bought my first piece of fur when I was 14, a black Mongolian lamb fur collar. I was absolutely hooked and spent my high school years hoarding vintage furs and going on the occasional modern fur splurge. To me, there is really no feeling like wearing a piece of fur. No other material makes me feel so safe and warm, but expensive and luxurious at the same time. I also love that items of fur clothing are often the ones that last the longest and are handed down through generations.
As a student at School of the Art Institute of Chicago, I've had experiences I never dreamed I'd have, particularly all of the specialized classes I've had the privilege of taking, such as corsetry, shoemaking, and fur design. In my senior year, I have been extremely interested in material discovery, such as python, crocodile, leather, and my favorite, fur.
I have really enjoyed learning about all of the hard sewing and detail work that goes into building a fur coat. I have always been drawn to fur and fur work by the plethora of Old World techniques, like hand stitching, pick-stitching organza back in, and twill tape, tailoring, and letting out. As a shoemaker as well as a fur designer, all Old World techniques really excite me and fur is most definitely included.
Invaluable Advice
I was thrilled at the beginning of my last semester to get a call that a spot was available on the "Fur Futures" trip happening in Toronto in the spring. I immediately said yes, and before I knew it, I had landed in Toronto airport and was on my way.
The opportunity to participate in Fur Futures has truly changed my life's direction. It gave me the chance to travel with seven other creative individuals all involved in the fur industry, including designers, farmers, tanners, retailers, and manufacturers. I was truly thrilled with the level of conversation fostered by such an extremely diverse group. As the only student participating, my colleagues gave me invaluable advice like not pursuing a typical fashion job but instead focusing on a specialised area like accessories, shoes or fur.
Fur Futures has also changed my outlook on the fur industry. We visited a mink farm outside Toronto to view in person the extremely high standards enforced in North America. I was thrilled to see just how healthy the animals were, and to meet the farmers and discover that most fur farms are family-run businesses, often many generations old. I was even more thrilled to learn how green fur farming is. I had always thought that with mink, just the fur was used and nothing else. Now I understand that every part of the animal is put to use, from fur to manure, being that the animal is fed such a healthy diet. Nothing goes to waste. I now feel confident standing behind fur and speaking with authority to those who may not be so supportive of fur.
We also attended a sale at North American Fur Auctions (NAFA), one of the largest in North America. Meeting with the graders from NAFA was a mind-blowing experience. I am so used to walking into a fur store or furrier and trusting that I am purchasing the highest quality; I had no idea that there are dozens of different levels of quality, especially in the case of mink. Being that fur can be controversial, I am thrilled to learn anything I can about the animals themselves, as well as any other information I can soak up.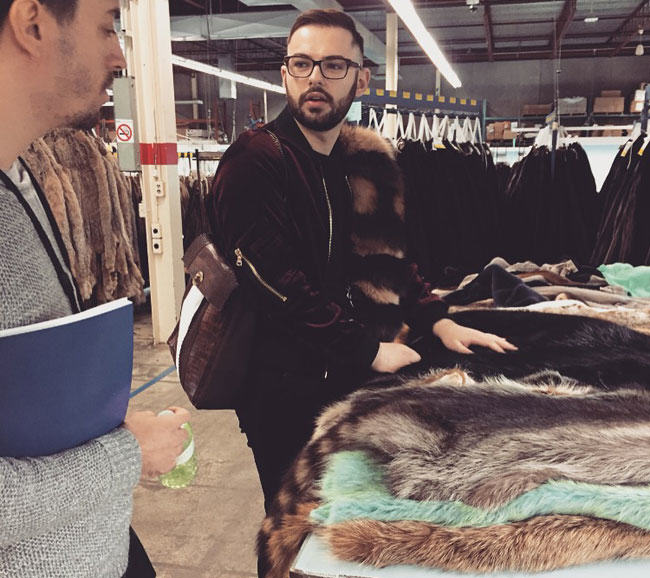 This trip has meant a great deal to me. Being a part of Fur Futures has given me not only an opportunity to expand my knowledge, but also to broaden my network with so many new connections with wonderful people. As a designer using a sometimes-controversial material such as fur, I believe it is imperative that I understand where it comes from as well as the ethics.
After my experiences with Fur Futures, I stand proudly behind my work, knowing that fur is ethical as well as a natural product that has been around since the beginning of time. I fully intend to continue using fur and hope that other designers using fur will be able to have the opportunity to gain a better understanding of where it comes from.
I personally own fur pieces from 60 to 70 years ago, and can only hope that my own fur designs will withstand the test of time. Although fur may not be everyone's cup of tea, the choice belongs to the wearer and no one else.