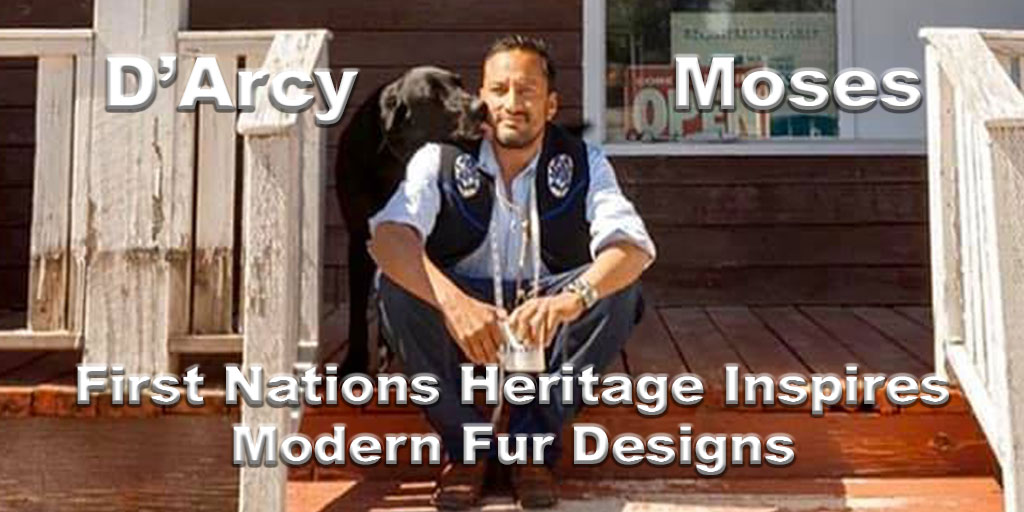 If you are looking for a designer who incarnates the Canadian fur trade's rich cultural mosaic, D'Arcy Moses is an obvious choice.
Adopted at birth, D'Arcy was raised by a non-native farming family in Camrose, Alberta. "They were really good, hard-working people who adopted five children after raising four of their own!" he recalls. Then after he left home, he set out to connect with his aboriginal roots.
While his mixed background sometimes left him feeling uncomfortable ("like an apple, red on the outside, white inside"), in Vancouver he met Leonard George, chief of the Tsleil-Waututh Nation, who assured him he could have the best of both worlds. "He told me, 'You have the First Nations culture and you have the non-aboriginal culture. You can utilize that, because you can mix between cultures at ease.'"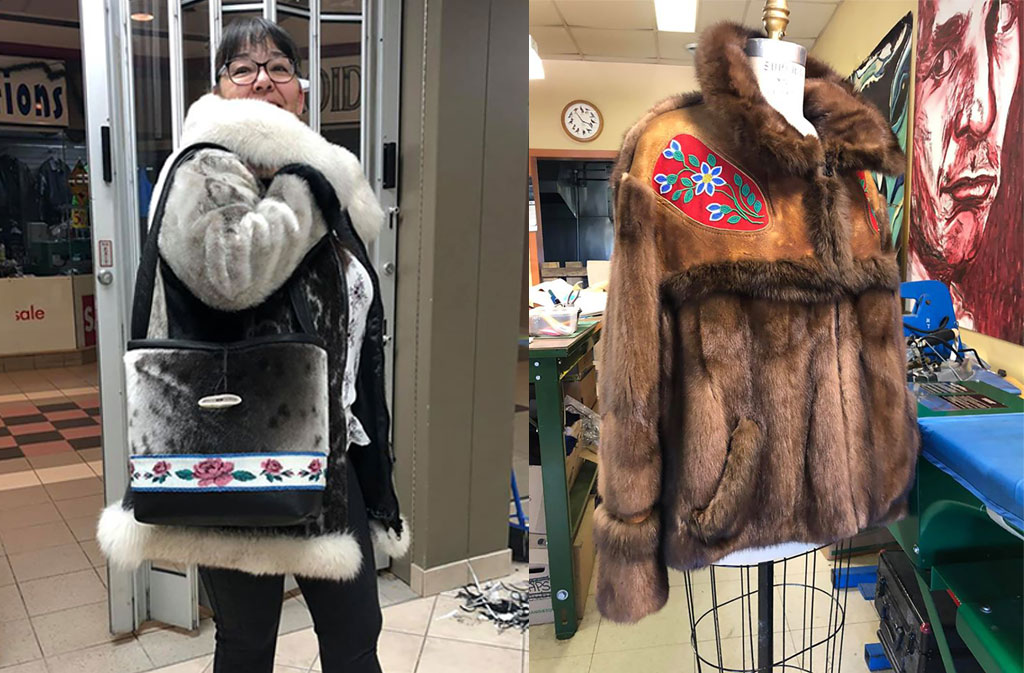 D'Arcy's chance to apply his complex heritage to creating innovative clothing designs came when he was offered a place in the Toronto Fashion Incubator. The fashion world took notice: in 1991, he was selected as one of ten emerging young designers featured at the Toronto Festival of Fashion. Then he was invited to Montreal by the Fur Council of Canada, where he began working with one of the country's most important luxury apparel manufacturers, Natural Furs.
The unique, aboriginally-inspired collections D'Arcy developed while working with Natural Furs were sold to Holt Renfrew in Toronto, Neiman Marcus and Saks Fifth Avenue in New York, as well as to many independent high-end retailers across Europe, Russia, and Asia. His work is also owned by private collectors in many countries, and a retrospective collection of his work was recently purchased by the Government of the Northwest Territories for its permanent collection of regional Indigenous arts and crafts.
Going Home at Last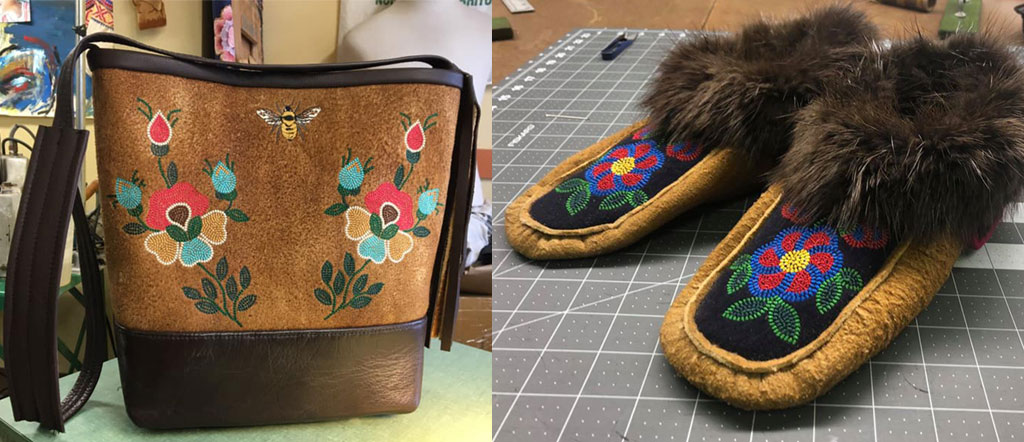 The big-time fashion world recognition was encouraging, but in 1996, D'Arcy received a call from the Pehdzeh Ki First Nation, in Wrigley, NWT. People there had seen a CBC documentary about him and recognized his name; Moses is a common family name in this northern First Nations community, and they had been looking for him.
After several visits, D'Arcy left the glamour, hectic pace, and controversy of international fur fashion to settle in the home he had never known.
His business experience landed him a job as a senior government official, helping his community to navigate the intricacies of bureaucracy and to secure funding for important economic and social development projects. But sewing and designing were never far from his mind.
His Own Workshop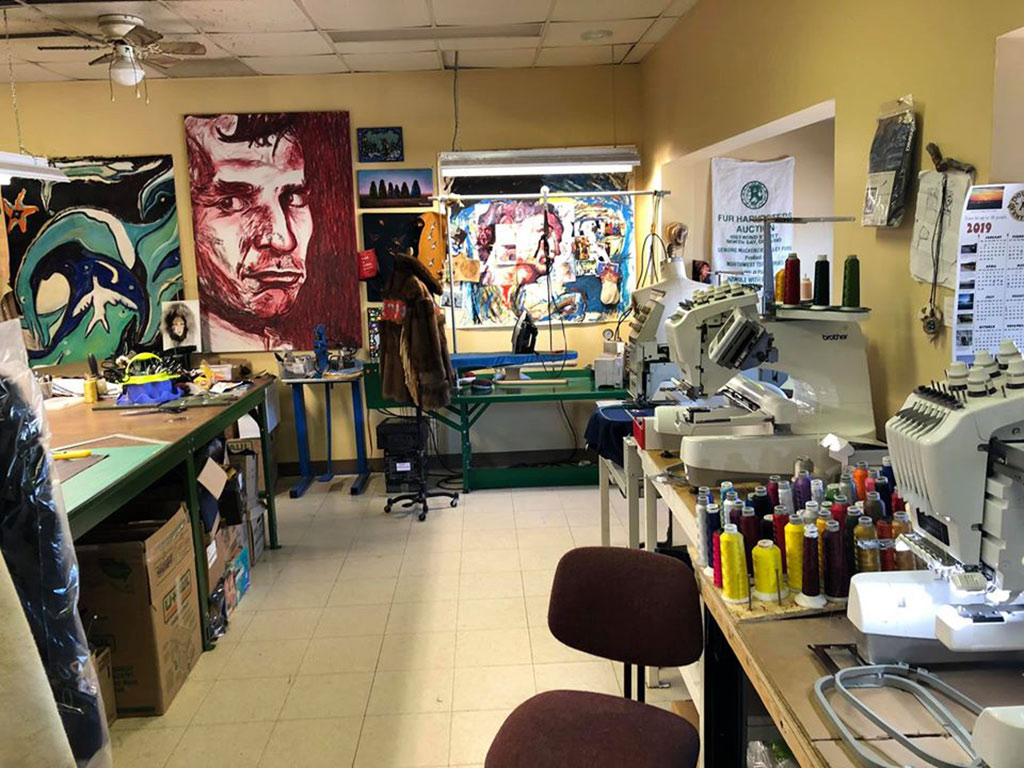 Twelve years with the government provided the nest egg D'Arcy needed to finance his latest project: a workshop in Enterprise, NWT, a community even smaller and more remote than Wrigley, about 100 kilometres north of the Alberta border. "I needed somewhere I wouldn't be distracted from my design work," he says.
And the work has been abundant and diverse. In January, D'Arcy participated in a residency at the Banff Centre for the Arts & Creativity, producing a new collection, and he will return to Banff to lead a workshop for indigenous design students from around the world. "We will be using traditional techniques to re-purpose fur, leather and other natural materials," he says.
D'Arcy's designs – including fur-trimmed pieces – are also featured in a two-year exhibition at the Buffalo Luxton Museum, in Banff.
He also runs workshops in Yellowknife, sponsored by the NWT Government, for traditional harvesters and craftspeople, where they use fur and leather to make everything from trappers' hats to iPad cases. "Some of the hand-stitched leather these men and women can do is seen only in the top fashion houses of Europe – no one else can do this beautiful work, it's a great privilege to work with them," D'Arcy says.
Committed to Natural Materials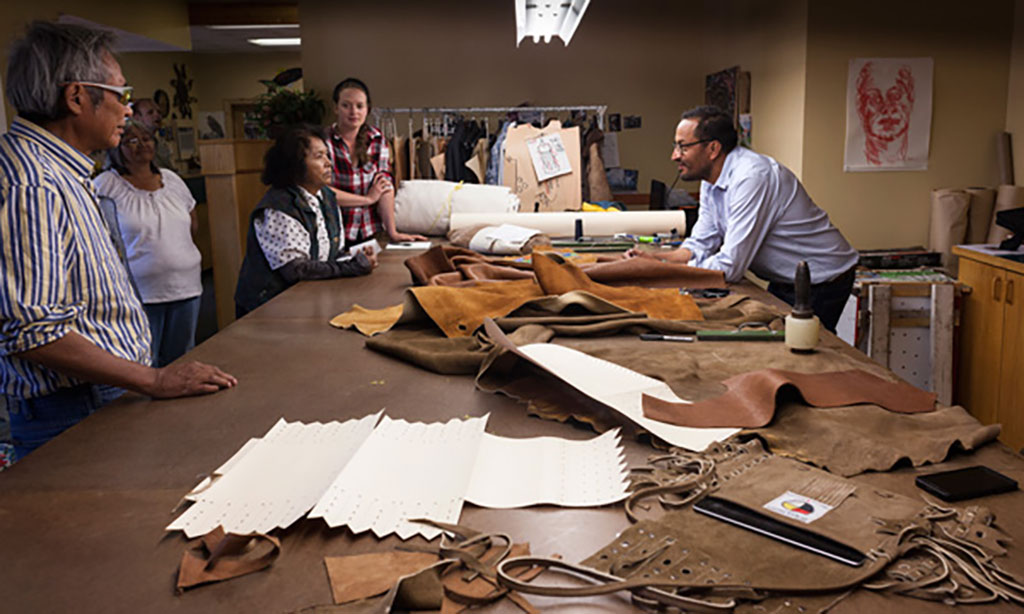 In his studio in Enterprise, where we reached him by phone, D'Arcy is now also experimenting with digitally-controlled bead work, which would allow Dene First Nations designs to be produced at more affordable prices. But above all, D'Arcy remains committed to using natural materials, including fur.

"Many people in my community still hunt and trap, and their attachment to the land is very strong. But natural materials like fur are also important at a time when people are increasingly concerned about protecting our natural environment. So-called `fast fashion' is killing the Earth. That $20 synthetic blouse or jeans may seem cheap, but 10 grams of micro-plastics are leached into our waterways every time they are washed," explains D'Arcy.

"Progressives who want to ban fur need to look at the whole ecosystem, the broader impact of industries, not just the individual animal. When we look at the whole picture, from sourcing to use and maintenance, through to disposal, it is clear that we should be using responsibly and sustainably sourced natural materials – including wool, leather, fur. The First Nations understood that we are part of nature and that we have an obligation to use resources with respect. I hope that my designs, marrying traditional and modern themes, can help people remember these important lessons."

SEE ALSO: D'arcy Moses' big bet. Up Here, October 2015.

***

To learn more about donating to Truth About Fur, click here.




[addthis tool="addthis_inline_share_toolbox_below"]