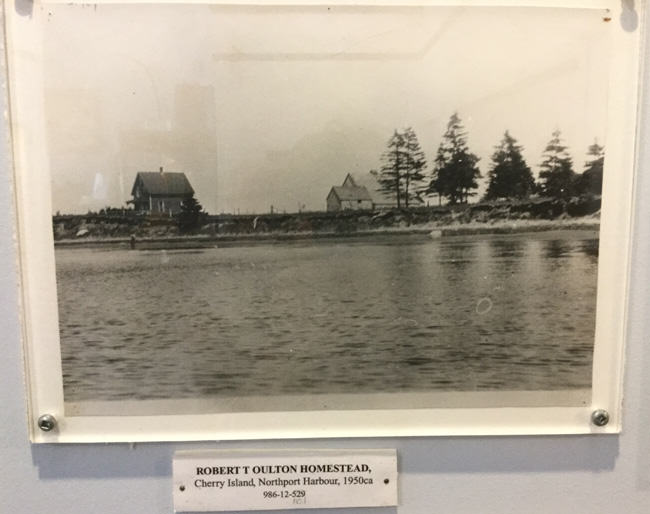 As we cross Confederation Bridge – the graceful, 13-kilometer, engineering marvel that links New Brunswick to beautiful Prince Edward Island in Canada's far east – I am invaded by a swell of memories and nostalgia. Our last trip to PEI was six years ago, to attend my son's wedding, and my Dad travelled with us. This time I am heading for a family reunion, but also in search of the origins of fox farming.
Crossing the Northumberland Strait six years ago, my father, Jack, told us about his trips here with his father – my grandfather, Armand – many years before to buy fox pelts. Dad joined his father's fur-manufacturing business when he got out of the Air Force, at the end of World War Two. PEI was where fox farming began at the end of the 19th century, and in the early 1950s it was still a leading production centre.
So when we arrived on the island, Dad wanted to stop in Summerside to search for the dry cleaners where he and my grandfather had set up shop to meet the farmers. "There was a bank across the street; they let us store the pelts in their vault overnight," Dad recalled.
In downtown Summerside we found several tributes to PEI's fabled fox industry – a statue of a silver fox on a stone pedestal, a huge painted fox mural on the wooden wall of an old building – but no dry cleaner across from a bank. We were about to give up – after all, a half-century had passed – but even at 87, Dad was not one to quit easily.
He went into a small jewelry store and asked the young salesperson if she knew where his dry cleaner might be. She shook her head. But then she picked up the phone to ask her Mom – PEI is that kind of place – and, bingo! The dry cleaner had closed some years before, but Mom remembered where it had been so we could do our pilgrimage. Mission accomplished!
Picturesque Alberton
Fast forward six years. Dad is no longer with us, but my son and his wife now have three young children. We are heading to the farm (dairy and seed potatoes) where my daughter-in-law was raised, to vacation with her siblings and their spouses and kids. My wife and I also take some time on our own to explore beautiful Prince County – and to track down the origins of the fox farming industry that first brought my father and grandfather here.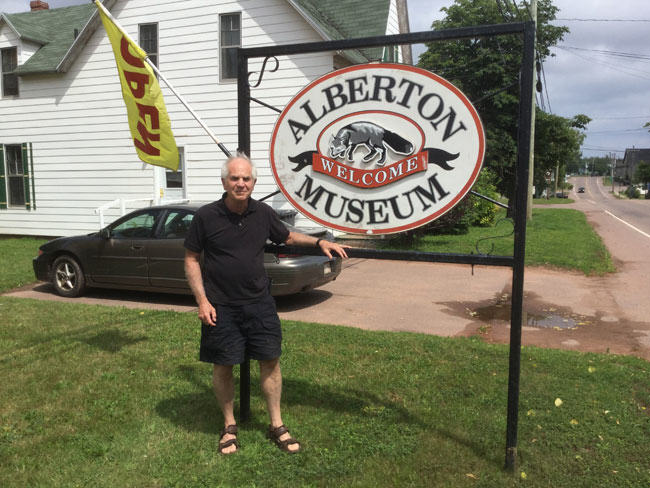 We find it in the picturesque little town of Alberton. From the wharf you can see Cherry Island, where the world's first fox farm was built, in the early 1890s. The extraordinary story is recorded in Alberton's charming little historical museum in the centre of town.
Charles Dalton and Robert Oulton were the pioneers of breeding and raising foxes in captivity. Their foxes were "silver-blacks", a naturally occurring mutation of the Canadian red fox.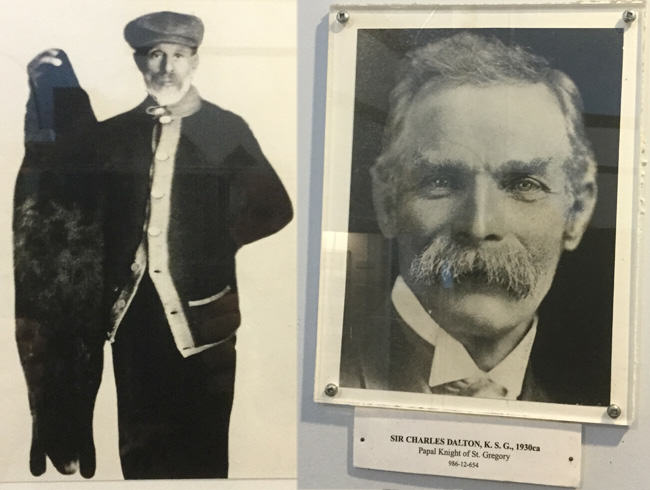 The story began some time before 1890 when a Mr. Lamb dug a few young foxes from their den in the woods near Tignish, not far from Alberton, and sold them to one Benjamin Haywood. Haywood tried briefly to raise the young foxes in a shed adjoining his carriage house before turning them over to Dalton.
After some unsuccessful efforts to raise the foxes in cages in his barn, Dalton formed a partnership with his friend and hunting companion Oulton. Oulton would take care of the animals, while Dalton handled finance and marketing.
Oulton decided to try raising the foxes in a more natural environment; he fenced in a section of spruce and hardwood forest on his isolated Cherry (then Oulton) Island farm. By 1895, Oulton's farm had produced several foxes, the first to be bred and raised to maturity in captivity.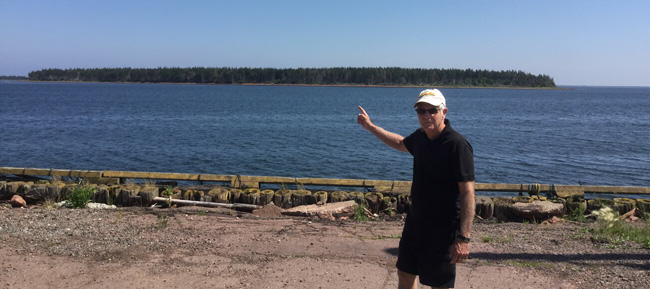 As Oulton and Dalton worked to develop a consistent strain of silver-black foxes, they began selling the pelts of the animals they did not retain for breeding at the January sale of C.M. Lampson and Company, in London. They shipped the furs from a small PEI harbor in the dead of night, to keep their production secret, and for good reason: in 1900 they received $1,807 for a single fox pelt, an enormous sum at a time when an average Island farm worker could expect to earn $320 for a year's work!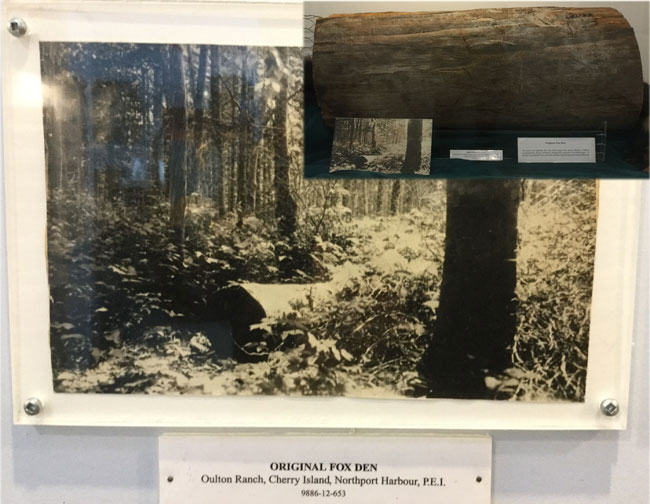 As production increased, it became impossible to keep their project secret, and in 1900 Dalton and Oulton expanded their partnership into the "Big Six Combine", with several neighbours. The group pledged never to sell live animals outside the group, but their monopoly was broken in 1910 when the nephew of one of the partners, Frank F. Tuplin, sold two pairs of live silver foxes for $10,000.
During the fox boom that followed (1910-14), fortunes were made. In 1910 Dalton sold 25 pelts in London for more than $20,000. The commissioner of agriculture reported in 1914 that the 3,130 foxes raised on the Island's 277 ranches had a value of $14 million – an average of almost $4,500 per pelt!
"Million-Dollar Train"
Dalton set up a new farm near Charlottetown, PEI, to supply the Charles Dalton Silver Black Fox Company Limited, a new venture for which he had received $400,000 in cash and $100,000 in shares, in 1912. The fast-growing fox industry was riding so high by then that the train carrying breeding stock from his farm in Tignish was dubbed the "Million-Dollar Train" in the local papers.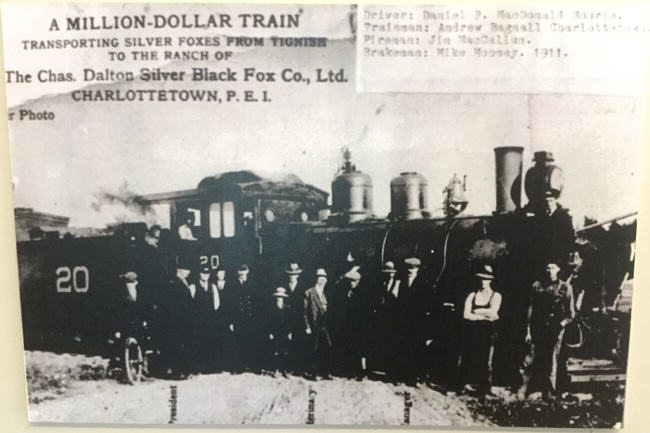 With the outbreak of World War One, however, Dalton must have felt that the "soft-gold" rush was peaking; he sold all his fur interests and devoted the rest of his life to politics and philanthropy.
He was elected to the Legislative Assembly in 1912 and 1915, where he served as minister without portfolio. He also donated generously to fund a tuberculosis sanitarium, schools and help for the Island's poor.
In 1930, at the age of 80, Dalton was appointed lieutenant governor of Prince Edward Island, a position he held until his death in 1933.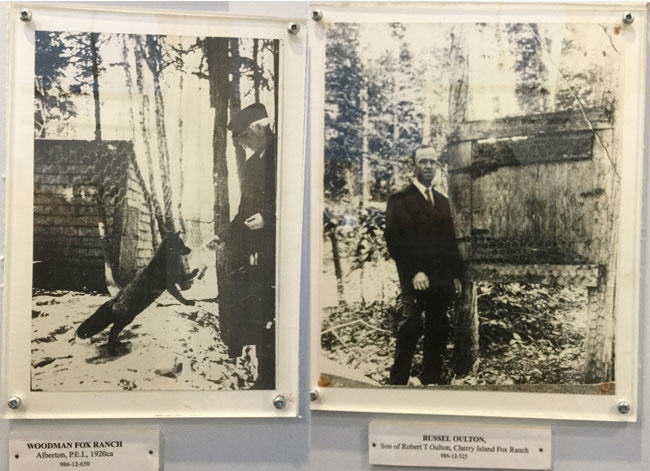 Today, there are only a few small fox farms remaining on PEI. But the breeding stock and husbandry techniques developed by Dalton, Oulton and other founding members of PEI's "Big Six Combine" were used to launch fox farming operations across North America, Europe and Asia.
One last personal note: one of the larger fox farms that my father visited in PEI back in the 1950s was in the tiny community of Birch Hill, just down the road from the farm where my daughter-in-law was raised. Little could he have known that, some 60 years later, his own son, grandson and great-grandchildren would be back in Birch Hill for a family reunion!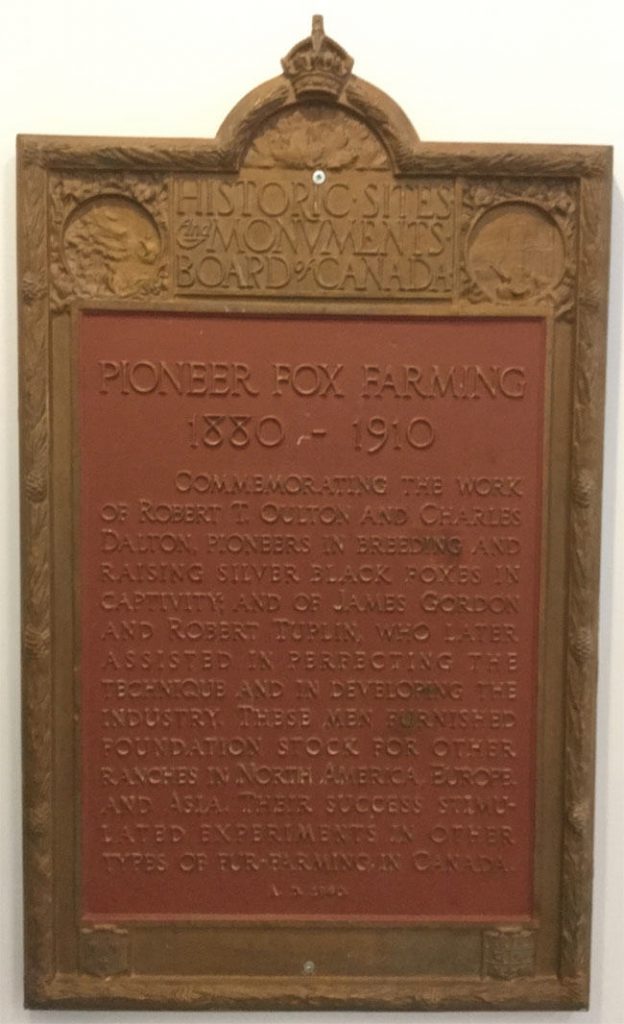 The author would like to thank the curators of the Alberton Museum for allowing us to reproduce photos from their wonderful collection. This charming museum is well worth a visit for anyone travelling to Prince Edward Island!